June 15, 2020
Episode 121: The flat-pack production floor with Etienne Lacroix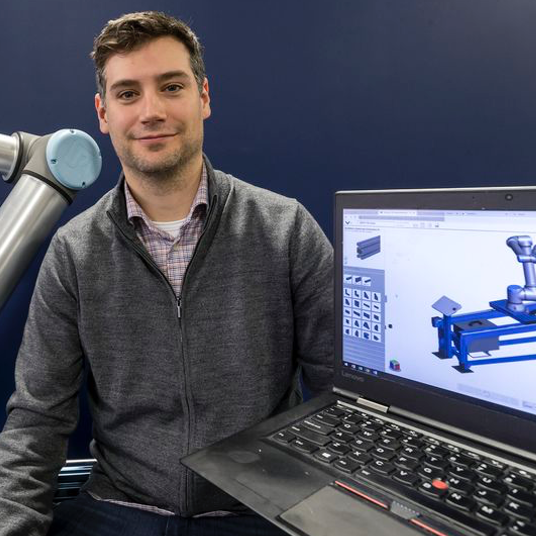 Manufacturing is faster paced and more competitive than ever before – all while product life cycles are getting shorter. Spending six months getting a factory line set up just won't cut it anymore. But what if that process could be cut down from months to days?
Etienne Lacroix is our guest on this episode of the Georgian Impact Podcast. As the Founder and CEO of Vention, Etienne is revolutionizing the process of designing, programming and procuring an assembly line. Like LEGOs, Vention's modular manufacturing products snap together quickly and can be reconfigured with ease. Pairing their technology with a sales and support process that removes barriers for large and small companies alike makes Vention a truly disruptive force in manufacturing.
You'll hear about:
Why self-serve tools paired with high-touch support are a killer combination for industrial automation and manufacturing sales.
How Fortune 500 companies and mom 'n pop shops alike are designing, programming, simulating, and ordering equipment online.
How Vention's modular approach to industrial automation means machines and assembly lines can evolve over time as the product evolves.
The advantages of side-stepping time consuming procurement processes.
Why Vention isn't monitoring their sales people's task compliance (number of emails sent, meetings arranged etc…) and focuses on more meaningful data instead.
How sometimes turning potential customers away can build trust.
Who is Etienne Lacroix?
Etienne Lacroix is the Founder and CEO of Vention, a software and hardware platform that enables mechanical designers to develop and manufacture custom industrial equipment significantly faster. Before Vention, he spent five years at McKinsey & Company as an Associate Principal with Operations and Product Development Practices. He holds an MBA from Harvard Business School, and a BA in mechanical engineering from the École de Technologie Supérieure.
Growth insights
in your inbox
Join our community of thousands of tech entrepreneurs to get actionable insights from our monthly newsletter.