June 30, 2021
CoLab's Hybrid Workplaces Event Emphasizes Importance of Employee Choices, Engagement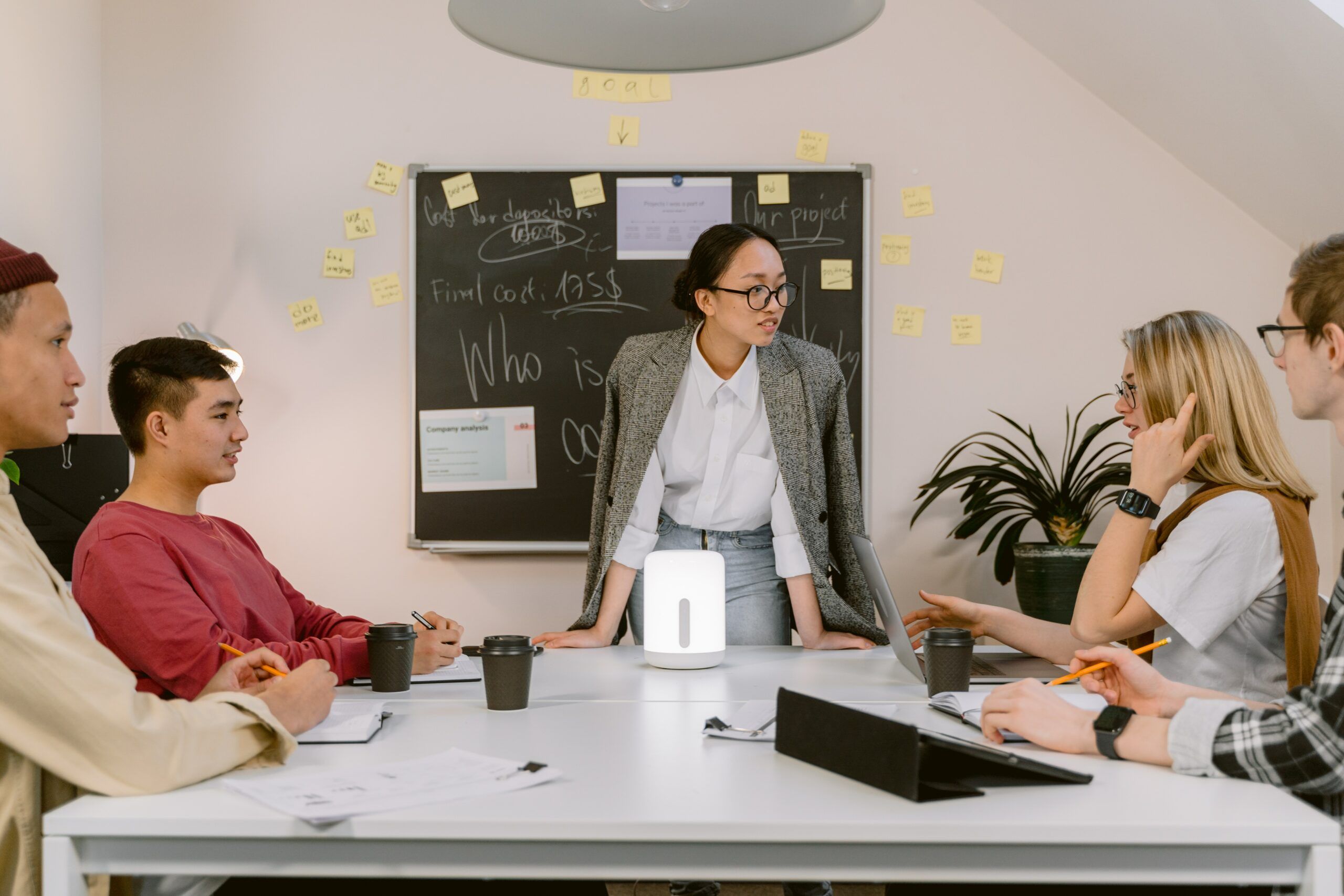 Balancing the productivity lessons learned during COVID-19 lockdowns, and being intentional about culture, will be critical to an environment that combines in-person and remote work.

Those are just a few insights from Georgian's recent CoLab Connect event on building high-performing teams in a hybrid environment. Hosted by Georgian's Head of People, Kathryn Christie, the conversation featured Jennifer Cristobal, VP of People and Culture at RiskIQ, Sue DiPoce, Chief People Officer at FreshBooks, and David Hassell, CEO of 15Five.
We rounded up some things we learned from the event from the panellists.
The changing role of offices
For Jennifer, adopting a hybrid work environment means keeping the best of the virtual setting— like the digital tools that have helped the company remain productive during the pandemic—while re-evaluating what an office space means.

Employees have been effective doing tasks at home, so Jennifer says RiskIQ has changed its mindset to think about office spaces as a resource for collaboration and casual interaction.
"That has helped us think about how we can use that to our advantage rather than an expectation," says Jennifer. "We want to make sure that we're setting up our offices that are catered around that space and interaction with folks, and we're really guiding our managers and helping them think through how they can use that office space for that kind of work."
Sue echoes this sentiment in situations where companies have offices across the world. FreshBooks, which is headquartered in Toronto and has offices in five countries, says that even having small offices in other geographies can create the common spaces where employees around the world can connect.
Managers in the hybrid workplace
In a full in-person office situation, it can be easier to foster culture without being intentional about everything. However, David notes that in a remote or hybrid environment, it's important to think more intentionally about working effectively — and managers play an important role in that.
Managers are important to setting the foundation for culture, so enabling them with the right tools to determine employee engagement — such as surveys — can help beyond once-a-week check-ins and Slack communications.
"We talk a lot about manager enablement as a new important function of HR, just like sales enablement," says David. "It's not just the tools and technology that are important, [it's also] the education side of it. You need a training program that helps managers understand, how do you actually check in with people in a way that is both about the work but also about the human, and then having empathy and understanding."
It also helps to create an environment where people feel safe to talk about their challenges, says Sue. "If everybody can hear the collective [sentiment] of what is on the team's mind, it goes a long way to say 'oh, I'm not alone."
Jennifer says that, early in the pandemic, they noticed that some employees may not be as vocal on Slack as others, and thought about ways to engage with them using existing tools. Companies can use tools like Donut or WaterCooler, which encourage engagement among employees within Slack, to drop in fun, interesting or difficult questions.
"That elicits really interesting fodder for them to then take into their one-on-ones or other conversations," Jennifer says. Meanwhile, platforms like 15Five can automate check-ins, posing questions to employees that managers can take into one-on-ones with employees.
David provides a similar example of engaging people at 15Five. Before the pandemic, the company would have employees, optionally, join breakout rooms where someone tasked with asking interesting questions would lead discussions and employees could get to know each other.

Eventually, that practice evolved. "People have said 'well, I don't really like the question Friday thing, but I want to do a Friday book club, or I want to go to some session to teach each other things. We've created a menu of offerings for people to go and engage," says David. "That trust that you build with other people lends itself toward us being more productive and connected human beings."

Empowering employees with choices
The pandemic showed that people can work from anywhere, and hiring people from all over the world can help keep your company competitive. With that, it's important to keep in mind the different schedules of other regional offices, says Sue.
She provides an anecdote about FreshBooks in Toronto working with their Amsterdam offices, and accidentally mixing up Father's Day practices.
"We jumped on a call and somebody was saying, 'hoping everyone had a great Father's Day,' and only for us to learn that Father's Day happens twice a year, and it was in March," says Sue. "We need to be intentional about understanding the nuances of what's practiced in each of those regions."
Jennifer says it helps to view diversity and inclusion practices as an audit that examines what employee experiences are like at each location, including how they are welcomed to the company and whether they're being challenged.
Based on these assessments, companies can test whether or not their experience will be equitable to someone working out of the headquarters, and the kinds of programs that are needed to support all employees.
As employees start choosing between remote and in-office work, David says that people may not have equal experiences, "but the place we've shifted to is around employee choice," he says. Regardless of that choice, companies can operate as if they are completely remote, and have the remote and in-person tools set up so everyone can engage.
Sue summarizes the approach as treating everyone the same by treating everyone differently, and supporting employees to be as productive as possible. "It'll be fair and it will be optional, and it will be at the discretion of the executives to provide the best experience," says Sue.
If you would like to learn more about Georgian CoLab, take a look here or email conor@georgian.io.
Growth insights
in your inbox
Join our community of thousands of tech entrepreneurs to get actionable insights from our monthly newsletter.