Over the past decade, trust has become one of the key technology issues of our time. In this report, we will review the prevailing trust trends of 2020 through the lens of the Georgian trust framework. We also explore the impact of COVID and the racial justice protests globally, as well as the three important themes below.
Expect accelerating momentum behind trust.
The momentum trust-oriented movements have gained will continue to accelerate in 2020, spurred by recent events and employee groups increasingly adopting collective action to galvanize change. Increased tech regulation will also come into play, with privacy leading the way, and other areas of trust following.
Build trust at the human-technology interface.
Trust risks grow along with increased reliance on AI, robotics and digital infrastructure. Emerging technologies are crucial to bolster explainability and transparency and preserve privacy — especially in areas of rapidly accelerating automation. Clear frameworks for accountability, safety and fairness will become an integral part of product design.
Integrate trust into all areas of your talent strategy.
Creating trust-focused positions and hiring fairly are important not only to send the right message, but to build teams that are prepared to take on trust challenges. Once talent is on board, prepare business leaders to communicate clearly and transparently with stakeholders. Be proactive in addressing trust challenges posed by ongoing remote work — from security to accountability to fairness.
We wrote this report for executives at B2B SaaS companies. As leaders, you are fostering relationships with a complex web of customers, employees, partners, suppliers, regulators and investors. The more you can earn their trust, the easier it will be to successfully establish lasting relationships and scale effectively.

Georgian is on the same journey as you. We too, are faced with similar challenges navigating the tides of change in 2020. We understand that earning trust is hard, and the recommendations within this report are as much of a guide to us as they are to you, to inspire trust at the core of your operations.
In this report, you'll learn what it takes to earn trust in 2020 and which trends will drive the discussion around what it means to be trustworthy. We start with a look at the controversies and issues that are creating a new set of challenges for earning trust - including the COVID-19 pandemic and the need to combat racism and inequality.
In this report, you'll learn what it takes to earn trust in 2020 and which trends will drive the discussion around what it means to be trustworthy.
A Framework for
Earning Trust
Throughout the report, we use the framework we introduced in our Principles of Trust to break down the complex concept of trust into six factors which can increase (or decrease) value and comfort to create trust in the digital economy. You can see the framework below.
Each section will prepare you to get ahead of these trends by developing an approach that meaningfully engages customers.
We end the report with a market map of vendors that you can partner with to help your business differentiate on trust.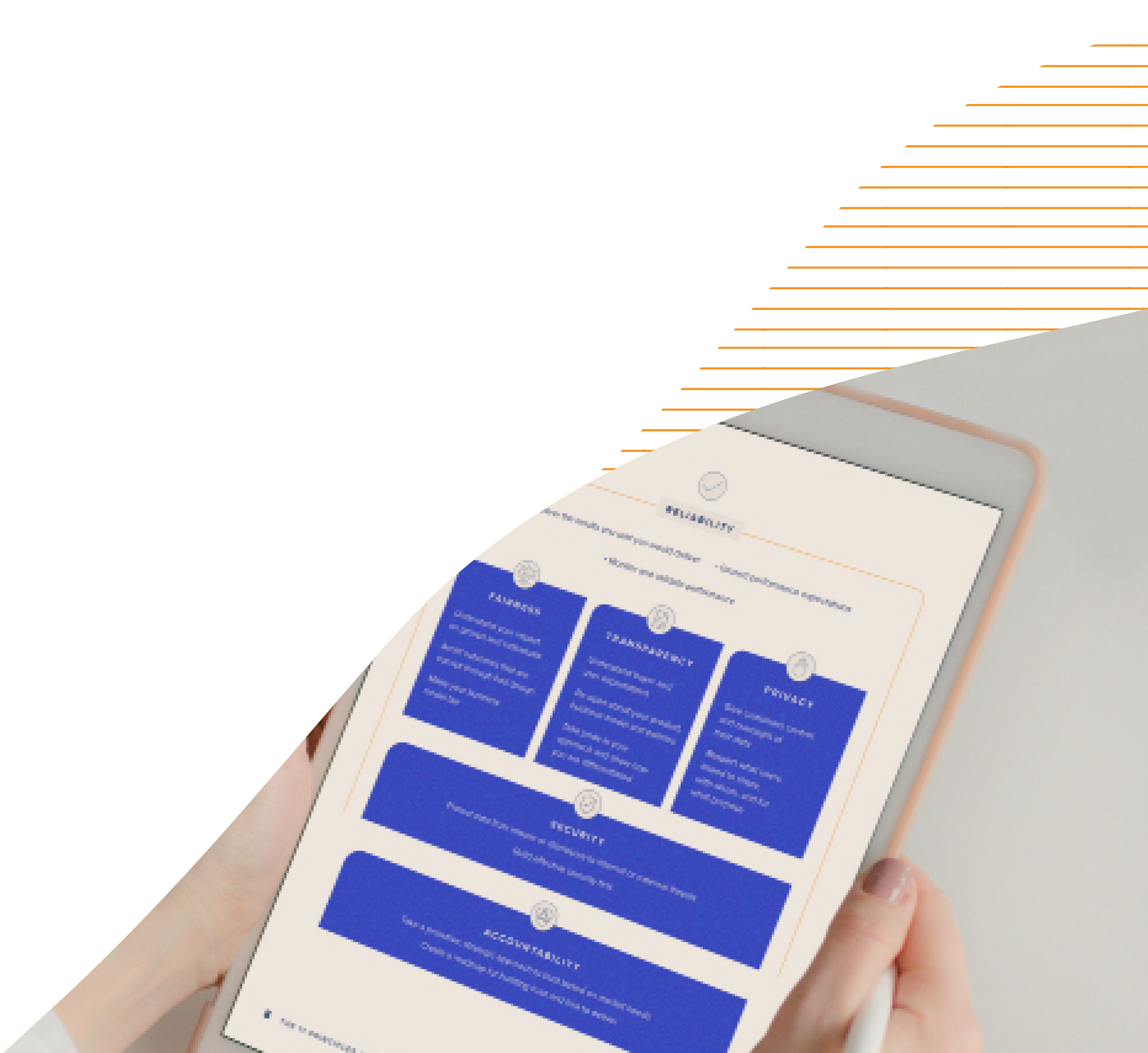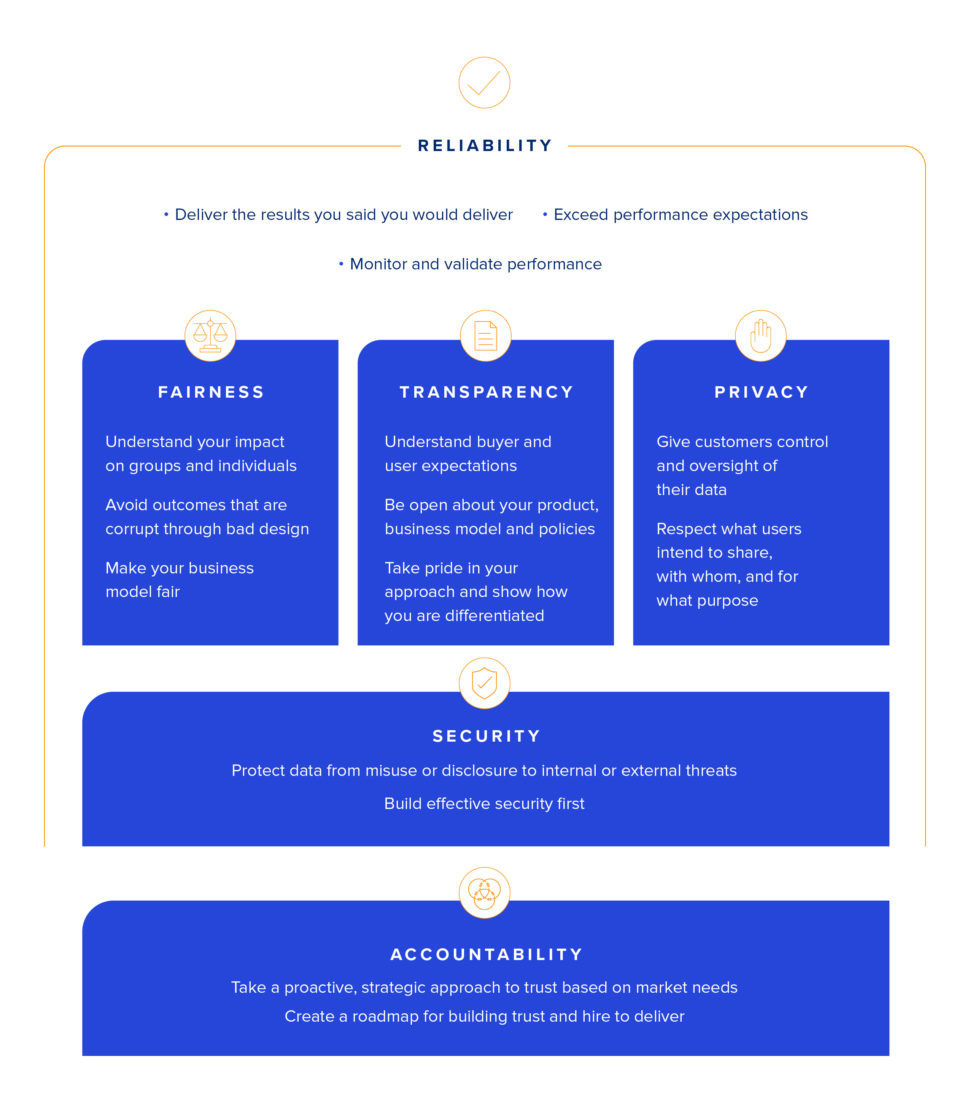 This year has been dominated by the response to the coronavirus and calls for racial equality. The global pandemic has amplified the importance of physical safety, decentralized workplaces, virtual relationship building, supply chain disruption and crisis communications. A renewed focus on racism and inequality has the spotlight on fairness and has encouraged many corporations and individuals to proactively look for ways to reduce bias.
Companies looking to earn the trust of their customers should take a leadership role in these events. In this opening section, we will take a close look at these two defining trends and how technology companies might respond to them.
WHAT DO WE MEAN BY TRUST?
Trust is the willingness to rely on the actions, integrity and ability of other parties, despite any perceived risks of doing so.

To earn trust, you must increase both the value provided in the relationship and the level of comfort that each party feels toward the other.
Trust Expectations Are High
Employees and customers are expecting more from brands in 2020. It is no longer enough to issue a statement or an emotional ad, but they must advocate and act on societal issues affecting the communities where they operate. This elevated definition of trust continues to be a focus of both Georgian and the companies in our network.
The Edelman Trust Barometer Special Report on Brand Trust in 2020, which surveyed over 22,000 respondents in 11 markets at the end of May, emphasizes that trust is the second most important factor in the decision to buy from a new brand, trailing only price and affordability; brands that take a stand on racial justice are four times as likely to gain trust as brands that stand to the side.
Since rational and emotional aspects of purchase behavior have moved to the forefront, brand trust should address consumers' fears around personal vulnerability, health, financial stability and privacy.

Brands are now required to solve, not simply sell.
Edelman Trust Barometer Special Report on Brand Trust 2020.
COVID-19 has had a material impact on supply chains, social settings and remote work, factors that have widespread implications and challenges. The virus will continue to impact software businesses in surprising ways, and as a result, companies' responses to targeting these challenges, via innovation and enforcement of sound trust practices, will be important. To address this, we discuss COVID-19-specific trends that affect trust in each section of this report.
Digital services have allowed life to continue with some semblance of normality, which would have been difficult to imagine only a few years ago. In fact, the crisis has highlighted the integral role that technology companies play through their ability to adapt to change, benefitting society at large. This is evidenced through the sharp rebound of tech stocks as their services have proven indispensable over time.
However, the crisis has also resulted in tighter budgets and more cautious expansion, especially in industries that have experienced headwinds. Despite these hurdles, strong customer relationships will allow software businesses to manage renewals more effectively. An approach to your brand where you effectively demonstrate both value and comfort will allow you to accelerate sales cycles.
Though technology companies have adapted to COVID-19 more smoothly than many other sectors, they still face a number of pressing challenges. Some of these are new; others are existing pain points that have been exacerbated by the pandemic.
Total decentralization of the workforce
Increased focus on employee well-being, mental health and engagement.
Rising need for training around security in a remote world.
Unprepared home network security and device security.
Rising tension over use of employee monitoring software without due scrutiny.
Reliance on (creaking) institutions
Increased surveillance and intrusion by governments to mitigate emergencies (e.g., cell phone and location tracking for people entering the country during COVID-19).
Rushed contact tracing initiatives.
Delayed relief payments and strained government resources.
Supply chain and cloud service disruptions
Mission-critical reliance on the cloud attracts increased attacks.
Increased strain on digital infrastructure has led to service issues.
Increased worries over job replacement due to the speed of digitization and automation of the workplace.
The response to COVID-19 is a defining factor of 2020. Initially, this was purely reactive. Now, software companies have the opportunity to act proactively and pull ahead in the new world.
To succeed in the conditions that COVID-19 created, the best companies are following a new playbook. These companies are:
Remote Leaders.
Embrace remote work as the standard and optimize the organization and operations to make the most of it.
Responsive and Agile.
Master digital onboarding for customers and ship new products to meet the evolving needs of customers quickly.
Customer-centric.
Evolve the customer experience by using best-of-breed digital tools. Look for opportunities to introduce new products that feed data into your core product, creating a data flywheel.
Innovative.
Create a culture of experimentation, prototyping, testing and fast failure to identify new opportunities and outpace competitors.
As worldwide racial justice protests continue, companies are realizing that staying on the sidelines is no longer a viable option. Public outcry over the death of George Floyd and larger patterns of racial injustice have significant implications with respect to fairness, accountability and—ultimately—trust.
To maintain consumer and employee trust, companies have put out statements of solidarity, made sizeable donations to community organizations and announced changes in their own policies and practices to fight inequality. Companies of all sizes can expect increased scrutiny and higher consumer and employee demands when it comes to fairness and justice, both in terms of company operations and their contributions to the larger community.
Going forward, companies should strive to:
Own their impact, not just their intent.
Companies can expect to answer for any policies, products or downstream results that reinforce racial disparities, even when not intended. Fairness in AI is a particularly important area to consider, as learning from real-world data may have the unintended consequence of reproducing or amplifying existing bias.
Recruit and support diverse teams.
In the tech industry, it's essential that we do not create products that reinforce racial injustice. Unfortunately, there are already many examples of problems that arise from biased AI systems. These issues stem from both biased data and from a lack of BIPOC employees being actively involved in designing for fairness.
Hold partners, customers, vendors and suppliers to high standards.
Shareholders, customers  and employees are increasingly putting pressure on companies to pull back from relationships that are problematic to achieving equality.
Components of Trust in 2020
In this report, we review the trends that are driving the discussion around what it means to be trustworthy as a technology business. Each section outlined below will prepare you to get ahead of these trends by developing a trust-first approach that meaningfully engages employees, customers and your wider ecosystem.
Start by defining what your organization stands for, and take responsibility for the current and future impact your products and policies may have on all stakeholders — this mindset is key to addressing all subsequent pillars in good faith.
When building products, begin by understanding what fairness means to your stakeholders, and design for it. Understand all possible scenarios where unfair outcomes could play out, and develop solutions accordingly
During the design phase of your product, understand what data you truly need to be collecting, and ensure users understand what you will do with their information.
Now that you know what data you should be collecting, and your stakeholders are fully aware, it is your responsibility to protect the data from bad actors.
Now that you've built the system, product or service, ensure it continues to operate smoothly and as expected by your users.
Be open and honest about what you are building and what motivates you. Unexpected things will happen — when it does, be prepared to communicate transparently and authentically to maintain trust.