Describing the battle for talent in the ML space as competitive doesn't do it justice. Impossible might come closer. Salaries are huge, and talent is scarce; it's a job-seekers market. Anyone who has experience and talent is fielding multiple offers with eye-watering salaries.
Because of this, a lot of people are understandably trying to break into ML. Previously, this work was only for PhDs; nowadays online courses make it easier to get qualified, and all major universities offer data science master's programs. Unfortunately, the quality of these junior candidates is highly variable, and most recruiters can't tell who is the real deal. A candidate can have all the right buzzwords on their resume but lack the business knowledge and expertise that's needed to succeed.
Since job titles are not standardized, it's important to dig into what applicants have actually been doing. Inflated titles are all too common, and it takes time to sift through resumes and screen candidates.
There are, though, candidates who find the call of a startup environment appealing. They want to have a big impact, determine the product vision and see their work in production. The game is to unearth these gems.
You can follow the tips in this blog to attract talented individuals to your organization.
There are, candidates who find the call of a startup environment appealing. They want to have a big impact, determine the product vision and see their work in production. The game is to unearth these gems.
Benefits and compensation
You can't attract top talent without considering compensation. Compensate people fairly compared to their worth in the market as well as their performance in the organization. No two employees are created equal, so give yourself enough wiggle room to compensate your top performers well. Incentives are a great way to do this as they allow you to show you appreciate your key employees. Be sure to reward the behaviors that you want to see as an organization (effort, collaboration, resilience, grit, innovative thinking, etc.), and never compromise on your cultural values. Make sure that these behaviours are recognized by leaders and teammates.
Compensation though is only one element of winning and keeping top talent. A well-thought-out employer value proposition will help you stand out from the crowd. Consider the personalities you are looking to attract and what you can offer that larger companies cannot.
For example, researchers want room to explore ideas without feeling confined. Appeal to those independent, entrepreneurial qualities by showing them the impact that they can have in your company and describing the projects they will own. Clarity here will help you to write a killer job description.
Tips for Writing a Strong Job Description
One of the most crucial pieces of each job description is an exciting description of the problems your company is solving and the specifics of how this role contributes. Highlight what is technically interesting, as well as your real-world impact. Place this section right at the top, before getting into a description of specific job activities and qualifications. If this role will own significant deliverables, be sure to describe them.
For all of your job descriptions, include the following elements in addition to the responsibilities and qualifications:
The mission. Describe what you're trying to achieve and why this role will make a difference to the company.
Description of your team. Describe in plain but compelling language (without internal jargon) what your company does, and the role of the team.
Diverse workforce statement. Add a sentence stating that you welcome diverse applicants, and highlight any programs or statistics that exemplify your commitment to diversity. Diversity and inclusion are important to bring in new ideas and direction..
Benefits and compensation. Describe your company's compensation strategy and highlight any benefits you have, including flexible working arrangements, professional development budgets etc.
The fewer qualifications you mark as required, the broader and more diverse your applicant pool will be. If you're open to attracting strong candidates from other fields, be flexible on requirements such as specific degrees. For example, candidates from the social sciences may have deeper expertise in survey design and analysis than candidates with a computer science or math background.
You can find template job descriptions and interview questions for the most common ML roles here.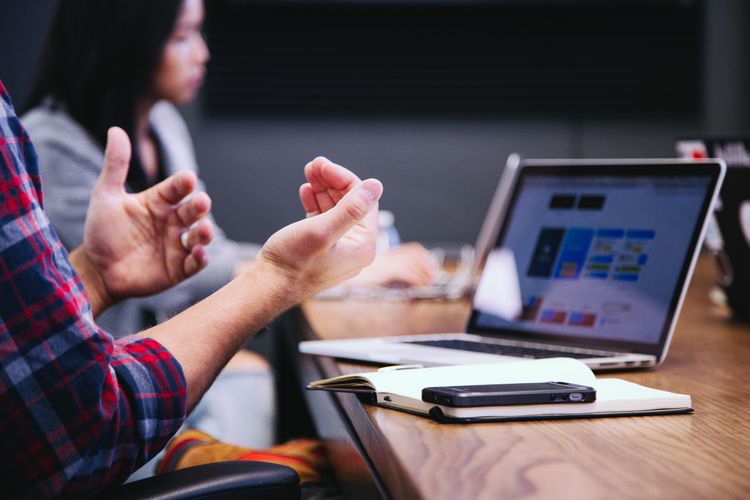 Here are some tips to keep in mind when writing your job descriptions:
Be honest about your company's stage and level of ML maturity in setting expectations.
Use accurate and up-to-date industry terminology in your description.
Highlight how the role relates to others. Because ML teams tend to be cross-functional, stress the need to work collaboratively.
Be explicit about the type of person you are looking for. Mention specific techniques and platforms you are currently using to make your job description more discoverable and appeal to specific interests.
Be sure to mention cultural draws. If your team includes highly-skilled mentors, mention that as high-performing candidates will appreciate colleagues they can learn from.
Mention if you offer a conference budget, and encourage your team to publish their research in papers. Accommodate this research, even during strong growth, to retain your team for the long term.
Where to Source Talent
With your job descriptions in hand, you're ready to promote your opportunities. It doesn't hurt to advertise your positions on LinkedIn, Glassdoor and other job boards, but this can be expensive, and the best candidates might not be actively looking.
Nothing beats a strong local network for referrals and introductions. By actively building your own network, including specialist recruiters, local schools, thought leaders and industry groups, you'll be able to make waves in your local community. Over time, you'll learn which local schools and companies develop the best alumni.
Be sure to promote your brand by speaking at local conferences and events, and encourage your team to do the same. Hosting meetups is a great way to get your brand known with jobseekers and as the host, you'll get to do several informal interviews in a few hours.
Your network includes your existing team; foster internal recruitment through referral bonuses and increase the reward when you really need people.
Onboarding
Once you've found the right talent, it is critical to make them feel part of the team as quickly as possible and ensure that they have a clear development plan. It is never too early to discuss growth opportunities for your team members, especially those that are driven by learning. Identify what motivates them (psychometric assessments are very useful for this), and leverage those motivators at every turn. If they are motivated by achievement, have them work on a project right away where they can immediately start hitting targets and challenging themselves. If they are motivated to influence, provide them with opportunities to lead. This is critical to engaging top talent early and driving their success in the organization.
Make sure your onboarding covers the roles of the team and the tools that you use in detail. Go over who owns what parts of the process with the whole team, and make sure they all understand how any new hire might impact this. Also make sure everyone knows who they can go to for clarity.
Design an onboarding task that solves a real problem and causes them to touch key parts of the system—for example, a system optimization problem might work well for this. It's easy—but dangerous—to get too ambitious on someone's first project.
Make sure new hires have learned the tools, processes, and how your team communicates progress before you hand them a new project. It's much easier to teach them those things when they are working on something controlled than on something open-ended.
Develop your common language to make sure everyone's on the same page. Having everyone understand the fundamentals of working with data is more important than knowing the latest research developments. Provide reading materials to establish the common language but be willing to adapt and learn from your new hires so that your culture doesn't stagnate.
Having everyone understand the fundamentals of working with data is more important than knowing the latest research developments.
This post is an extract from our guide to building effective ML teams.
The full guide contains:
A framework for building your first ML product and putting in the team, processes and tech to get to maturity
Job descriptions and interview questions for the most common ML roles
We rebrand our annual Higher Purpose Report to our Purpose Report. This...
As we discussed in our previous post, the sudden rise of generative AI…
At Georgian, we invest in high-growth technology companies that harness the power…