April 30, 2021
ClickUp's Product-Led Growth Playbook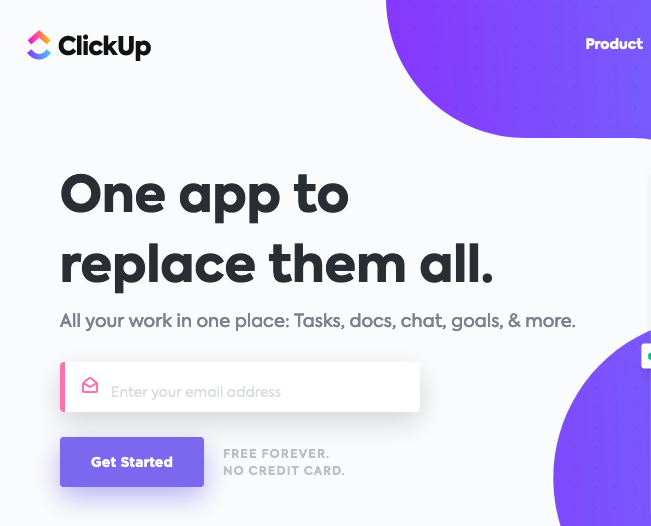 Georgian recently held an event on go-to-market models as part of our CoLab Connect Series. At this event, Tommy Wang, Head of Global Revenue at ClickUp, opened up the playbook for their product-led growth (PLG) model.
ClickUp is a productivity platform that replaces all other workplace tools and enables all teams across an organization to work together in one place. Tommy heads up ClickUp's sales engine that focuses on product-led growth. From the first release in 2017, Tommy and his team have grown the business to over 300,000 teams and more than 3 million users around the world; this rapid expansion is due largely to organic, product-led growth.
1. Show your product's true value to convert to paid
The goal of a product-led model is to get more people using the product and then paying for that use once they have experienced the product's value. This relies on a self-serve model where users can get a taste of the product without paying.
The go-to-market team at ClickUp focuses on two key metrics to achieve this:
Onboarding activation: Using trials to encourage users to sign-up for the product
Monetization activation: Encouraging people to pay more for their use of the product
If those are your objectives, then why hide features that would make your customers willing to pay behind the paywall? ClickUp doesn't lock features up-front to determine the shift to a paid account, and allows users to stay free forever within certain usage limits. Usage-based limits are in place for certain key features like custom fields. By doing this, users can then get used to the product and end up being "hooked" on these features and then hit the usage limit and therefore the paywall after, say, three months.
Allowing users full access means they see the value in the product, find the features that fit their needs and ultimately feel happier paying for those features.
The conversion to paid and the handoff to Customer Success is a critical moment because you're helping users to understand what's available above and beyond what they've already discovered. The Success team can then help customers make the most of features and unlock the value that they haven't seen yet.
2. Instill clarity on OKRs
Alignment on objectives helps every single member of your team to focus on what matters. At ClickUp these are:
Grow revenue
Optimize the user journey: Improve the user journey across every stage, from top of the funnel all the way through to expanding and growing during the use of a product.
Relentless focus on CX. In terms of the customer experience, the metrics that ClickUp tends to focus on are Customer Satisfaction (CSAT) and Net Promoter Score (NPS). However, ClickUp also uses the Customer Effort Score (CES)—how hard is it for you to do certain actions, to create certain workflows.
At ClickUp, the team thinks about how to make the user experience as seamless for an end user as it is for admins and executive-level users. Sometimes with product-led growth, you end up deemphasizing the latter groups to focus on the end-users, who are the early adopters, but that makes it harder to convert to paid.
3. Choose the GTM mix that works best for you
Any SaaS startup chooses between five sales motions:
Self-serve
Commercial
Enterprise
Alliance (Channels)
Acquisitions
Choosing a self-serve model does not mean that you can ignore all the other motions. ClickUp uses a mix of all these, not just self-serve. The most successful SaaS companies find the mix of motions that works for their business and their objectives.
Companies, such as Dropbox or Slack, typically use self-serve and commercial sales. Both companies attempted to use enterprise sales, but the product and go-to-market did not fit together well. At Atlassian self-serve, channels and acquisitions are the focus. At Salesforce, the mix is enterprise sales, alliances and acquisitions.
Whichever route you take, once you reach a certain size, larger companies will start to copy what you do. Your choice then is to either iterate quickly to deliver a product at scale or build a distribution engine that lets them keep up and compete with the biggest companies in the world.
As part of a launch ask yourself which sales motions are right for your business. Figure out which of the five sales channels you are willing to prioritize above the others. It's hard to do all five at once.
Think about the dynamics of the channels and when you would want to introduce each one. For example, direct sales are a lot easier to layer in after self-serve. For channels and direct sales, you will need to think about how you incentivize one over the other. For commercial and enterprise motions, you will need to think about how you set up your pricing strategy to bridge the gap.
If your company attempts to launch multiple different go-to-market motions, the DNA of a team ends up having to change many times. Tommy recommended to start with two of the options and hire new leaders to take them on as your business grows. Then move on to new ones that can help you, say, two years in the future.
4. You have to commit to the product-led model
If you use a sales channel first, it's much harder to go backward to retrofit self-serve. To succeed, you need to have the right DNA in each team: sales, marketing, product, engineering, and so on. Because of this, you will need the full support of different leaders and ideally a C-level sponsor who is willing to invest without a short-term return.
You don't always see the results of PLG immediately. It takes a lot of experimentation and often the first experiments don't work out. You need to fully commit and hire a new team dedicated to that growth effort. It needs to be multidisciplinary: you're going to have product marketing and growth marketing, for example, but these hires may not fall into the existing marketing org structure.
Overall, the leader of this group has to say "Hey, we'll step on some toes and maybe not see results for a half year, maybe a year, but we're willing to take that risk and experiment because we think it's important."
If you would like to learn more about Georgian CoLab, take a look here or email conor@georgian.io.

Growth insights
in your inbox
Join our community of thousands of tech entrepreneurs to get actionable insights from our monthly newsletter.