March 15, 2020
How an Experienced CRO Builds a Revenue Engine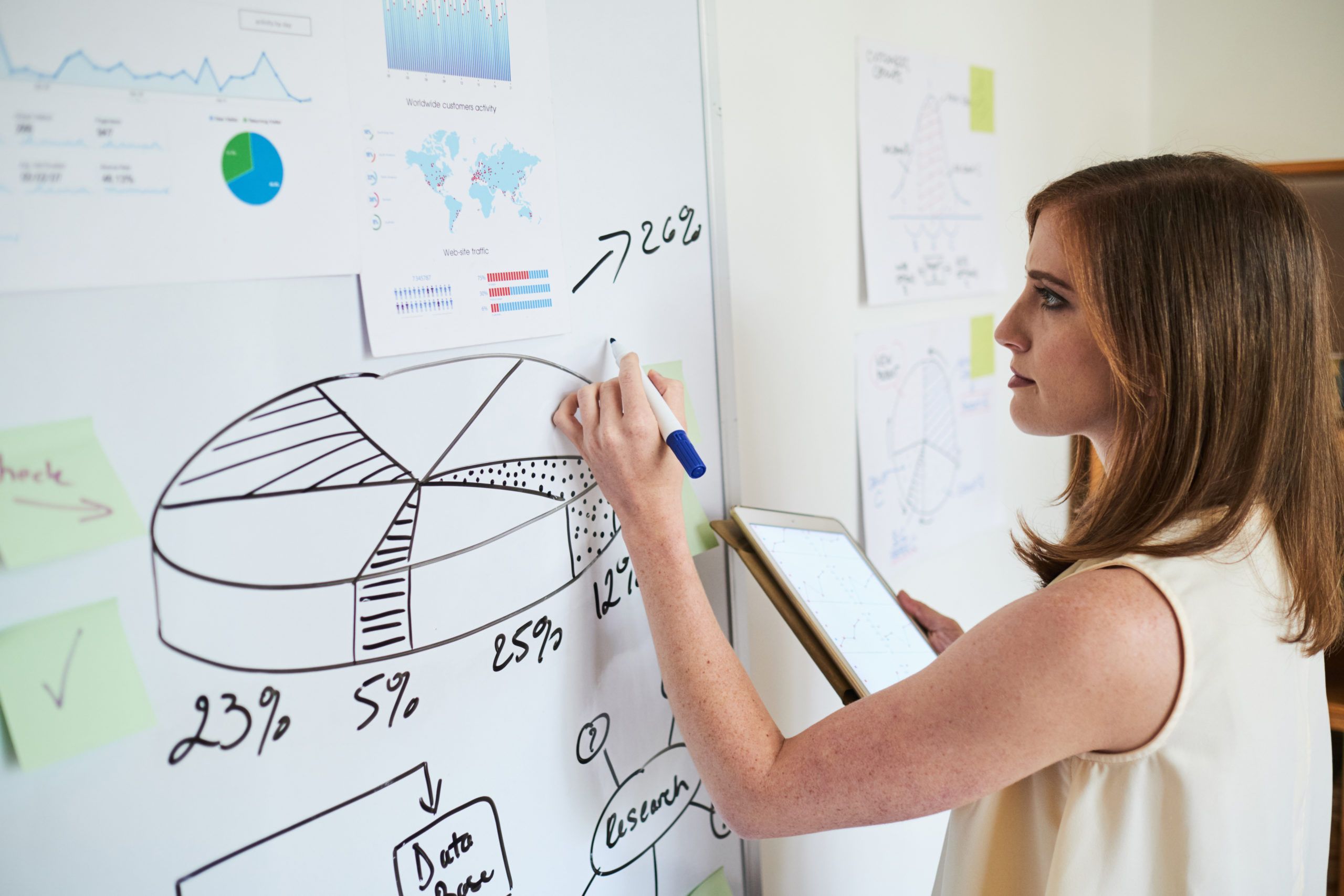 The CRO – or Chief Revenue Officer – is a position that has become increasingly prevalent in the SaaS world in the past 5 years. Having an experienced CRO to lead your revenue team is key to scaling up, but based on feedback we've heard from CEOs and executive teams, it isn't always abundantly clear what a CRO actually does and why they're so important.
If you're in that camp and curious to learn more, this post is for you.
At Georgian, we are lucky to have Joe DiBartolomeo on our team to advise companies on sales acceleration. Joe has been building disruptive companies as a CRO and a go-to-market executive over the last 30 years, most recently leading Pluralsight's growth journey from $30M to $300M+. We sat down with him to understand how he thinks about the different components of a revenue engine, and the key questions he asks about each one.
It Starts with Alignment
When I asked Joe what ingredients he looks for in a revenue team, the first thing he highlighted was alignment.
Alignment starts at the executive level – from the CEO down. There are a few different ways to set your objectives; whether it's OKRs, V2MOM or another, they all agree on the need for alignment. The CEO's objectives need to be aligned and connected to those of the executive team. For CROs, it is crucial to have alignment with the demand generation owner – typically the Chief Marketing Officer – and the delivery owners – the Chief Product Officer and Head of Customer Success.
Beyond leadership alignment, there are skills that can drive alignment across your revenue teams. I refer to these as the "glue roles": Product Marketing, Sales Enablement and Revenue Operations.
Where many startups go wrong is hiring the well-known roles (ie. VP Sales, SDRs, Account Executives) but overlooking the "glue roles" – crucial cogs in a revenue engine that enable you to scale.
It might seem counterintuitive when you're focused on billings, but another salesperson might not be the best next hire. That's because you could make a hire that makes your whole team more effective, giving you an even greater lift.
When we discussed the importance of the "glue roles", this quote from Joe framed it up nicely:
If you are going to hire a sales leader and think they are going to go create the buyer personas and all of the messaging, when they really should be building a pipeline and closing business, it will slow down your growth trajectory and create a heavy burden on your unit economics.
The CRO Pyramid Framework
As we dug into Joe's approach to the CRO role, he laid out a framework of building blocks that come together to form the CRO Priority Pyramid. Joe has built up this framework over time and uses it as a blueprint to analyze a company's revenue engine. If you are an experienced operator or you have a rockstar CRO in-house, then you might have the pyramid down pat. If that's the case – well done! If not, let's run through a quick checklist for each building block.
There is a logical flow to the pyramid starting from top to bottom: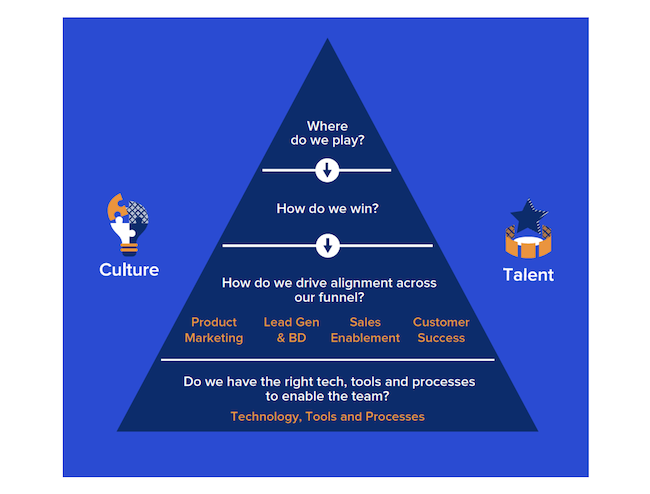 Starting with "Where Do We Play?", Joe walked me through each part of the framework, focusing on fundamental questions to ask to make sure all the bases are covered.
Where do we play?
As a growing startup, one of the easiest traps to fall into is trying to be too many things to too many people. Without focus, it's much harder to build a repeatable revenue engine. As CRO, it is important to be able to take a step back and answer the following questions:
What is our go-to-market focus?
What geographies do we play in?
What segments do we cover? SMB, Commercial, Enterprise
What industries do we sell into?
What channels do we use? (Direct sales, partner, reseller)
What do our SaaS metrics look like for each of the bullets above (acquisition, retention, upsell)?
Can this help to prioritize / deprioritize certain markets?
Have we documented our buyer personas?
Do we understand the different needs and pains for each persona in each segment/industry?
Do we have a track record and proof points of serving each segment/industry?
What type of solution do we have?
Horizontal – can it legitimately go across customer segments and industries? How do you know?
Vertical – should you just go deep on one segment or industry? This might change as you grow and have more resources.
Once you've completed your assessment, take a step back to consider where you can trim the fat and where you can double down. Focus on the pockets of your GTM strategy where you have the expertise to sell and the track record to back it up. This will help everyone to distribute resources and effort in the most efficient way.
How do we win?
Once you have a more clear picture of where you should play, it's time to take a hard look at how you plan to win. Here are the questions to ask at this stage:
Do we have product-market fit?
What are the key problems that our personas are looking to solve?
Do our product features effectively solve these problems? How do we know?
Where does our product sit in their workflow?
Can we accelerate our sales cycles with a product-led strategy and user experience?
Does our messaging align with customer problems and demonstrate value?
How do we communicate the features we have to address customer needs, and the impact they can have?
Are we aligned with our product and technology groups to build the right things in the coming months, based on our GTM targeting?
Is product marketing meeting regularly with sales and product to ensure the voice of the customer is reflected in roadmap discussions?
How can we leverage our brand and community?
Amongst a sea of competitors, what do we stand for? Why are we unique?
How can we build a community around our brand that drives awareness and interest in our solution?
How can we incentivize our existing customers to refer our solution? Or if they won't refer us, why not?
This quote from Joe rang true for me and succinctly sums up the power of brand:
Right now, you're pushing. The most successful SaaS companies pull.
Funnel management
When I asked Joe about how he manages his funnel as a CRO, it was refreshing to hear the simplicity of his answer. As a CRO, your goal is to create linearity – you want to make your deal funnel as predictable as possible. To achieve that, the four key parts of your engine are product marketing, BD, sales and CS.
The CRO oversees the funnel for each customer segment and industry. His or her role is to align the four teams around a playbook for each segment that outlines how they will execute and win.
Once the playbooks are set and the teams are aligned, a key part of the CRO's role in funnel management is to create what Joe calls "plausible emergencies". When a CRO identifies a weak spot in their funnel, they can use this tactic to create a sense of urgency and inspire the team to come up with a solution. CRO's can't always get into the weeds themselves, so this "plausible emergency" concept stuck out to me as a fantastic way to think about influencing team members.
The foundation
From Joe's perspective, the last three elements – talent, culture, and revenue ops – form the foundation of the pyramid. The CRO's success is critically dependent on these elements and without them, the revenue engine cannot run.
At a high level, the CRO must be a magnet for talent, a champion of culture, and an advocate for technology and processes that enable their teams. We'll save the deep dive on each one for a future post, but I did want to share one soundbite from Joe on how he thinks about culture on his revenue teams:
Culture is first and foremost about being transparent and co-creating a plan. It's about alignment and not wanting to let your teammates down. It's being able to count on each other, operating with your values in mind, and winning as a team.
Conclusion
We hope this post has given you a clear view of how a CRO breaks down the components of a revenue engine. Here's a summary of everything in a visual form:

If you would like to dive deeper into this topic, please send a note to evan.lewis@georgian.io. We are considering a content series that touches on each component of the CRO Pyramid and we would love to hear your ideas.
Growth insights
in your inbox
Join our community of thousands of tech entrepreneurs to get actionable insights from our monthly newsletter.