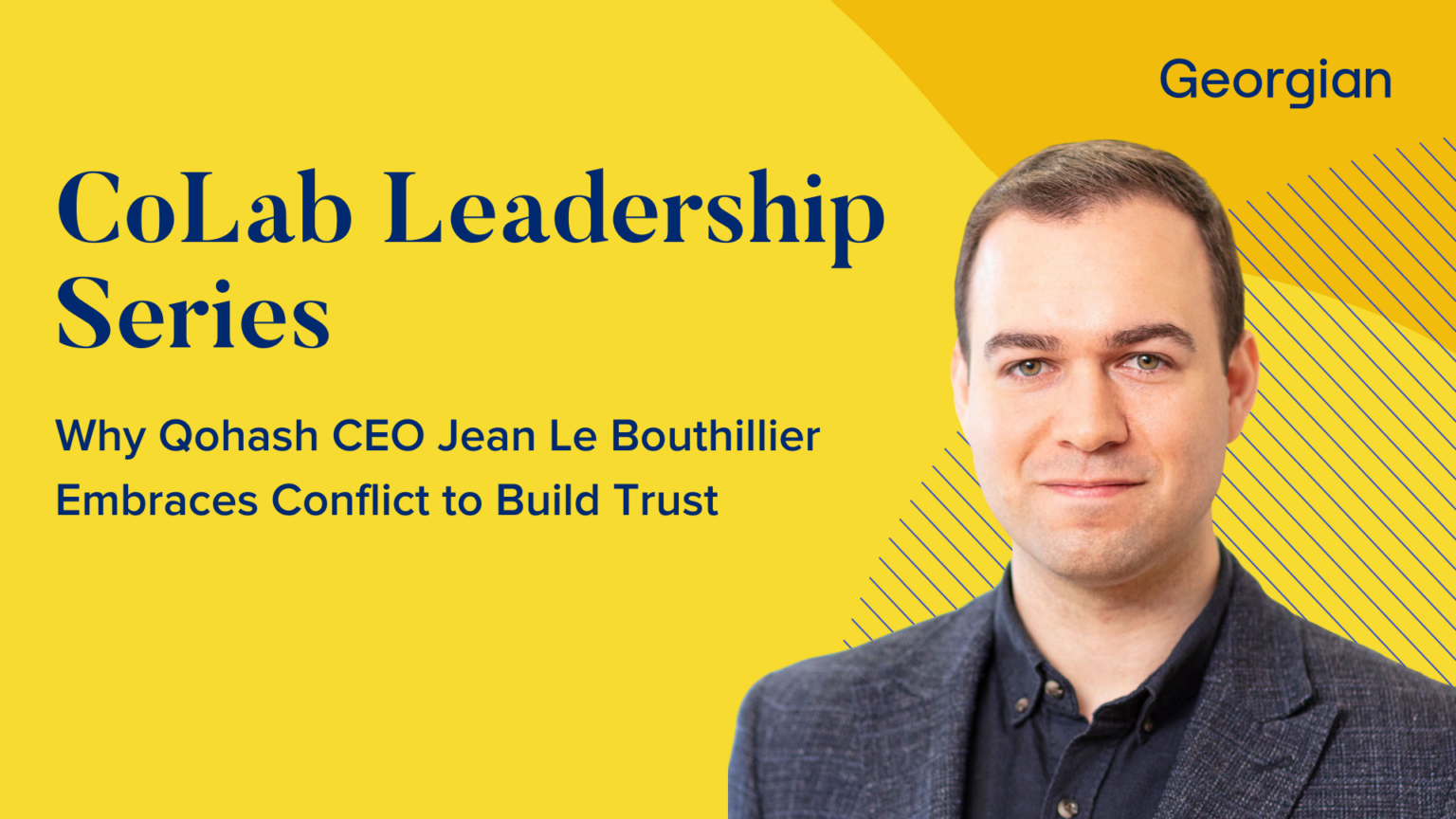 Why Qohash CEO Jean Le Bouthillier Embraces Conflict To Build Trust
For Jean Le Bouthillier, CEO of enterprise data security company Qohash, failure to protect the sensitive data of his customers isn't an option.
It's a mindset Jean learned through his 15-year career in the Canadian military, and one of many values he's learned and applied to running his startup. While Qohash's company values include resilience, accountability, and the pursuit of excellence, he says embracing conflict is one of the most important to help Qohash meet its mission.
"Embracing conflict is about rapidly getting to the truth," says Jean. "If we're in a team and we have a critical mission and we don't have a lot of time, the only way we'll get to a workable plan and the truth is to embrace conflict."
It's a value that he's instilled in the company and one that he's coached his teams to espouse. We talked to Jean about how embracing conflict makes his business better and got a first-hand account from Heather Ryan, Qohash's Director of Product Marketing, who explained how she grew into a better leader for it.
Why conflict is healthy
Embracing conflict isn't like a boxing match, explains Jean. It's understanding that everyone on the team is on the same mission, and disagreeing in a calm, polite and ego-less way.
While Heather was used to reporting to CEOs by the time she joined Qohash in July 2021, she admits it was refreshing to be pushed to be even more assertive. "Jean would be more upset if I saw an area of the business that needs to be addressed and did not speak up about it," she says.
For Jean, a good CEO wants to hear everything that's going wrong. Only the people closest to problems know how to best solve them, but if people are afraid to share these problems with the CEO, then the CEO doesn't have full insight into the business.
"And then, at the end of the quarter, 'look at that, we've missed our target,'" says Jean. "Good CEOs want the opposite. They want radical candor, but nobody will tell CEOs the truth unless it's safe to do so."
By embracing conflict, Qohash builds an environment of trust and respect among colleagues so they know their opinions will be heard and valued.
"There's no pushback. He's not mad at me for surfacing a reality that I'm seeing; even if we don't always agree, you're encouraged to say it," says Heather.
At Qohash, Heather was encouraged to speak up both directly by Jean and her team, and it's something that's helped her through difficult conversations. As teams grow and new members are introduced to the department, Heather says there's usually a "storming" or adjustment period that takes place. Rather than handling these growing pains in back corridors without directly confronting the people involved, challenges are dealt with directly and politely.
Onboarding for Qohash's values
During the interview process, recruiters explain the company's values to candidates to make sure they're comfortable with Qohash's working style, and candidates are asked what they see as the qualities and culture of high-performing teams to see if it aligns with Qohash.
Jean also onboards all employees himself to explain the company's values. "I feel it's really important that people hear it directly from me," he says.
Within the team, employees are rewarded for living out the company's values. In all-hands meetings, people can nominate colleagues for showcasing these values, which reinforces what Qohash stands for.
There are also exercises among the executive team to ensure Qohash's values are top of mind. "We had an executive team meeting and we actually went around the room and everyone told you one thing that you do that adds to the team and one thing that detracts," says Heather. "It wasn't personal, you just had to be really comfortable with getting feedback."
Trust is core to conflict
To get to a point where executives are prepared to embrace conflict, there needs to be an understanding of where people are coming from. At Qohash, offsites with management have included a "life story" session, where everyone has seven minutes to talk about the good, bad and ugly. The result is seeing the achievements and hardships of your colleagues — while Jean recognizes not all companies would prioritize this, he's described the process as "transformative."
"It would maybe take months to reach that level of trust and affinity, but suddenly you know where people have been, and you see them as more human," says Jean.
Like the military, a startup works toward a common goal but executes in a decentralized way among different teams. By ensuring there is strong leadership, consensus on values and a deep level of trust, Qohash is well-positioned to meet its mission.
Over the past several months, CoLab executives and customers have told us…
You're probably familiar with OKRs — Objectives and Key Results. OKRs are…
What do you work on at Georgian? As part of the R&D…