January 31, 2019
Earning Trust for Stronger Customer Relationships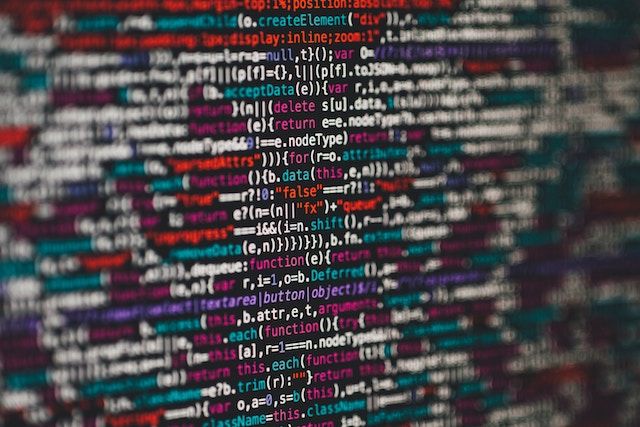 This post is a summary of our CEO's Guide to Trust. To learn more, including:
Why earning trust is more important than ever
The opportunity to build trust
Case studies on trust-building technologies
How to build trust in your company
Why is Trust So Important?
As a growth-stage SaaS business, your success depends on the trust of your customers. Customers provide you with data, and they trust you to protect that data and use it according to the agreed terms. And if you're using machine learning or conversational interfaces you rely on access to rich sources of training data more than ever.
Establishing a relationship of trust with your customers ensures that you can use that data to deliver value and create business differentiation and growth. The downside of getting this wrong can be catastrophic. Customers want to feel the comfort that comes when their vendors are doing everything they can to protect their interests. If they don't, they will look elsewhere. Creating a plan to build and maintain trust with your customers could be the most important thing you can do as a CEO.
Customer Concerns Around Trust in Software Companies Are Increasing
In the wake of a series of well-publicized data breaches and instances of data misuse, continued access to sensitive data is less certain. Customers are more concerned than ever about data privacy and security. And both users and regulatory agencies are demanding increased governance over personal data.
Not only do customers want to know what information is being collected and why, they believe that they should gain specific benefits from the use of their data, such as reduced costs, mitigating risks, improved analytics, increased convenience or even delivering on a greater good.
How can you design your business so that you create value while providing assurances that you are trustworthy?
It begins with understanding what trust is and how you can build it.
Defining Trust
Trust is the willingness to rely on the actions, integrity and ability of other parties, despite any perceived risks of doing so. Building lasting trust involves both increasing the value provided in the relationship and the level of comfort that both parties feel towards each other.
To build trust you'll need to make strategic investments to address data concerns such as privacy, security, bias and explainability, but also build a reputation for reliability, fairness and transparency.
This is more than a technology issue. To succeed, you will need to think broadly and commit to building a trusted company and products.
Companies that get this right will be able to develop deeper, more meaningful, longer-lasting relationships with their customers. Those that don't face uncertainty. As customers become more and more sensitive to issues around security, privacy, fairness and transparency, companies will have less goodwill to rely on when things go wrong.
The time to take proactive steps to build trust is now.
The Trust Opportunity
Customers do not feel they should take the initiative to fully understand the implications of a business's data practices. Instead, they believe that businesses should communicate clearly and transparently, asking permission and giving control over personal data to maintain their trust.
Customers are willing to share their data, but only if they trust an organization to safely steward their data, using it only for the purposes they consider it was approved for and explicitly gaining permission for any other use.
Customers are highly attuned to the value that they can derive from sharing their data. Now though, they better understand the value of the data and the risks of providing it and therefore want a fairer exchange of value in return.
This presents both a challenge and an opportunity for brands to lead on trust. There is an expectation that business leaders should step into the breach. 76% of respondents to the 2019 Edelman Trust Survey thought that CEOs should take the lead on trust.
Leaders have already recognized that trust can be a powerful differentiator.
Amazon consistently drives value by exceeding customer expectations around product range, price and delivery. It is widely regarded as one of the world's most trusted brands. In the enterprise space with Amazon Web Services (AWS), Amazon capitalizes on its reputation for availability, reliability and security. A recent survey found that Amazon was the second most trusted institution in the US after the military.
Apple protects customer privacy, by making privacy controls more prominent, frictionless and granular, and by using advanced privacy-preserving techniques such as differential privacy.
Choose Your Strengths:
Every company prioritizes different aspects of trust to meet market expectations. Your approach will be associated with your brand. Here are some examples of other companies who have build their brand around different aspects of trust:
76% of respondents to the 2019 Edelman Trust Survey thought that CEOs should take the lead on trust. 
How to Build Trust
Value is at the core of the issue of trust. The value you provide may come from increased productivity, convenience, ease-of-use, aesthetics and design, information synthesis and decision support or risk identification and mitigation.
New technology is so disruptive because it drives exponential increases in value very quickly. But value alone cannot build trust. Your customers need to be comfortable with you and the technology. Comfort is created through security, privacy, reliability, fairness and transparency.
Building and maintaining trust in new technology requires finding the right balance between the value you provide and the comfort level that your customers need to feel before they adopt.
When you exceed market norms and customer expectations for trust and redesign your strategy, your product and your organization to do so, the market will reciprocate in kind. As your users reward you with additional data, you will be able to provide greater value back, creating a flywheel effect.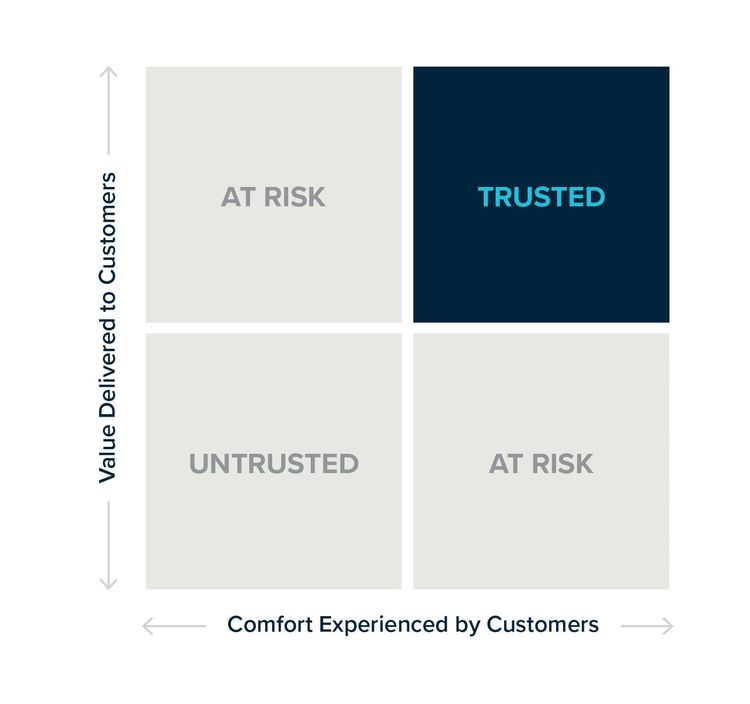 Five Steps to Get Started Now
Building trust with your customers requires a proactive, long-term view, but done right, you can design trust as a differentiator. Here's how you can get started.
1. Understand Your Market for Trust
Understand market requirements and expectations on trust and always seek to exceed them. Look at what competitors are doing and see where your relative strengths and weaknesses lie.
Talk to your users. Ask them what it will take to find the right balance between value and comfort.
2. Design Trust Around Security, Privacy, Fairness, Reliability and Transparency
Hold a workshop to assess your own organization to determine your trust maturity. Use the outcomes to create a plan that addresses your most pressing gaps to trust.
The key areas your plan should address are:
Design: Design involves taking a proactive, strategic approach to trust. By designing a holistic trust program, you will have a greater impact than pursuing a series of fragmented initiatives.
Security: Security means protecting users' data from misuse or disclosure to internal and external threats.
Privacy: Privacy involves treating sensitive data with the utmost care and giving customers consent, control and oversight over their data.
Fairness: Fairness means understanding the impact and consequences of your organization on both groups and individuals and avoiding outcomes that are corrupt through bad design.
Reliability: Reliability is about delivering consistent performance by monitoring, validating and continuously improving. It involves making sure you have the skills and resources to deliver.
Transparency: Transparency entails being open about your product, business model, and policies, and explaining them in clear terms to users. Explain everything: from the choices you make in design, all the way through to individual predictions of machine learning models.
3. Create Accountability Structures
Consider which member of your team will be responsible for trust and ensure that they have enough influence.
Create a set of core values around data and provide training to support these ambitions — e.g. personal data will be used for the purposes allowed and only for those purposes.
Embed trust thinking into every aspect of your organization including business strategy, culture, hiring, promotion, processes, technology and measurements of success.
4. Operationalize Trust
Now that you have the appropriate structures and processes in place, you are ready to start delivering on your plan.
Start with security guarantees: Ensure that the appropriate level of security is in place for the sensitivity of the data you collect. Prepare for every eventuality and design systems to reduce the impact of an attack.
Take accountability for sensitive data and treat it responsibly: Take responsibility for any data misuse or breaches and actively work to enhance privacy and security systems. Only ask for private data if it is needed and clearly explain the value you will deliver with that data.
Make a stand on fairness: Proactively identify potential sources of bias and discrimination in your business product and approach and manage them. Think about both human and technological sources of bias.
Demonstrate reliability every time: Demonstrate reliability and competency by actions, not just words. If your core business isn't performing, you can't be trusted. Set realistic performance expectations and ensure that you have the best team and resources in place to deliver on them.
Build for interpretation and explanation: It's hard to build trust if your technology doesn't allow for scrutiny. Use technologies that can both automate processes and provide explanations for the decisions that they took.
5. Show that You're Trustworthy
As good as your internal processes may be, you won't be able to build trust unless you communicate them effectively. Celebrate your track record and talk to your customers about how you have successfully built what matters most to them.
Grab your copy of our CEO's Guide to Trust to learn more about how to get started on building trust. We'd love to hear your stories or questions as you embark on this journey: @GeorgianPrtnrs.
If you enjoyed reading this, sign up for the Georgian newsletter to get our best content each month.
Growth insights
in your inbox
Join our community of thousands of tech entrepreneurs to get actionable insights from our monthly newsletter.