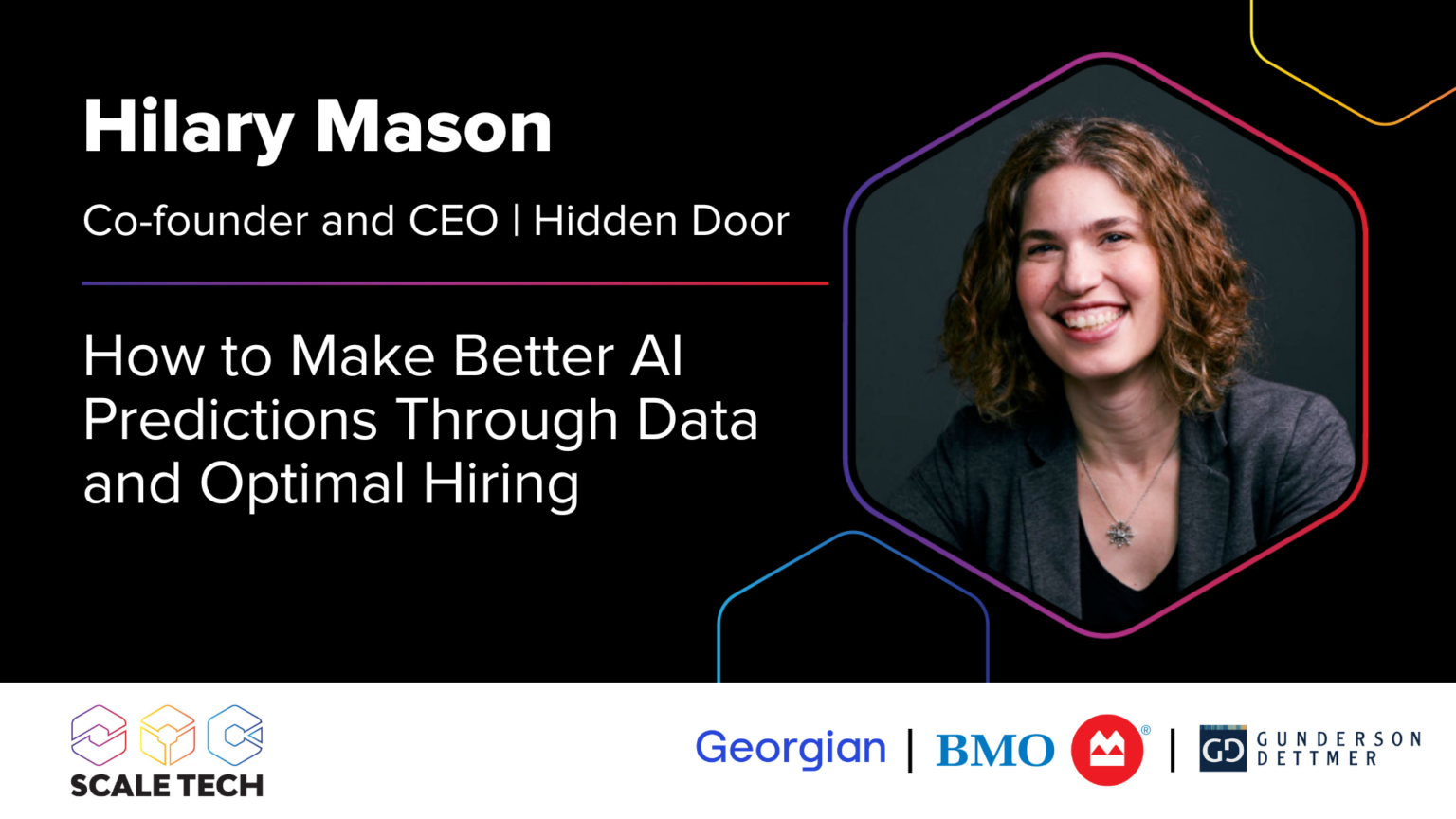 How to Make Better AI Predictions Through Data and Optimal Hiring
Networking with industry leaders is key to evolving your business. These connections help you information swap on current big issues, including shifting dynamics in the tech industry and what's on the horizon.
The annual invite-only Scaletech Conference provides a unique opportunity to network while tackling these big questions. Through expert speakers covering topics like data science, cloud computing, virtual platforms and artificial intelligence, the event is a chance for companies to get answers to their most pressing questions. Since the event's inception, Scaletech has grown to focus on building technology at scale and successfully delivering these products.
Here are some big ideas from Scaletech Faculty member and computer scientist, Hilary Mason, who along with being a data expert — is co-founder and CEO of Hidden Door, a technology studio building narrative AI.
Consider the implications of AI
While AI can make your business solutions more effective and efficient, it's important to consider how and when to best use it with your company's particular modelling.

For example, are there areas where your data is predictable and is the space that you're making data predictions within well-known and documented? If so, AI could be a good solution; however, events like the COVID-19 pandemic can create a huge break in predictable spaces, as people's behaviours quickly and significantly change.
In these scenarios, you want to rely on human judgment along with a set of rules or predictions. Incorporating probabilistic models for decision-making, in which you're planning ahead to make decisions based on error bars and acceptable error rates, can help alleviate some of these challenges.

What is your intuition on what to expect from a data set – and how do you change your mind about building something?
Create a wonderful hiring experience
When hiring — especially for in-demand roles in the technology sector — crafting a thoughtful and accessible experience is key. Consider building breaks into the interview schedule and communicate the hiring process clearly to your candidates. Give them the space and permission to ask for extra accommodation if they want to.
Regardless of the role, you want to hire people who can communicate well – particularly if your company operates remotely. Especially for remote and hybrid teams, establish what communication expectations and norms are on your team. Do you document your ideas, processes and proposals in a certain way to accommodate different time zones? What are the tools you use to communicate?
Build processes that help to reduce bias in your interview process. Have more than one person in every interview session to get multiple perspectives on each candidate's answers. Use an established list of core questions for every candidate for the same position to ensure everyone is receiving the same experience.
Lastly, don't be boxed in by preconceived notions of what someone's background should be. By casting a wider net, you'll bring in candidates who come from different work cultures, with different sets of expectations, and different vocabularies on how they talk about and manage projects. All of these qualities contribute to your team's ability to work and problem-solve creatively.
"Hire people who can work in a high-trust, high-expectation environment and who are open to that from the beginning."
Balancing vision and focus
Leading with transparency and trust is paramount when building a sustainable company culture that moves the business forward. At the same time, you don't want to overwhelm your team or fracture their attention by overcommunicating every detail of potential future actions.

It's important to be honest with your team, especially if you're in senior management. This includes addressing difficult questions. Get the team together at regular intervals and share the big picture, upcoming milestones, challenges and triumphs so everyone on your team is getting the same message at the same time. Strategic changes shouldn't come as a surprise to your team and this communication is even more critical when working remotely.
Evolving your product from customized to standardized
When you first start creating a product, your early customers are often heavily involved in helping you develop and evolve your product.
Updates are made to the product based on customer feedback rather than a longer-term product roadmap or vision. As your business grows, there comes a time when you have to shift from creating unique implementations for each customer to standardizing your offering in a way that will allow you to scale.
One approach to maintaining that bespoke feeling while standardizing is to focus on strategy during new customer onboarding and to create a bespoke plan for your customers on how to best use the core features of your product to achieve their unique objectives.
Pricing for value
When it comes to collecting and analyzing data about your products or services, developing a value extraction model tailored to your company's needs can be challenging. How do you get people to understand that what you're offering is differentiated and valuable?
For businesses centered on providing data, because so many variables can influence your data set, it's important to create solutions that measure the higher-level value that you're creating – such as the quality or accuracy of the information – instead of just relying on volume. This shifts the customer's view of your offering from a commodity to a value-add product and you can justify a price to reflect that in your customers' minds.

Marketing comes into play here as well. Test different messaging on your potential customers to discover what value levers resonate with them. Is it time to value? Is it the accuracy and quality of the data? How can you elevate your data product beyond commodity status?
Another way to add value and differentiate a data offering is to ingest competitors' data and charge for the insights on top of it, elevating your offering relative to the competition's.
Three approaches to building a business around long sales cycles
To close, here are three approaches were discussed to help shorten sales cycles in businesses that naturally have longer sales cycles:
Identify people with the most likely pain you solve. The larger the pain, the shorter the cycle.
Find adjacencies that are less sensitive and shareable to create testimonials and case studies that give your product added third-party validation.
Hire someone who has the Rolodex and experience with a similar product (that worked!) i.e. they have credibility and trust baked in.
Interested in learning more? Check out the Scaletech Conference or apply to join CoLab Georgian's collaborative pre-investment program for early-stage startups.
We rebrand our annual Higher Purpose Report to our Purpose Report. This...
As we discussed in our previous post, the sudden rise of generative AI…
At Georgian, we invest in high-growth technology companies that harness the power…