December 12, 2016
Security First: Resources to Help You Protect and Differentiate Your Company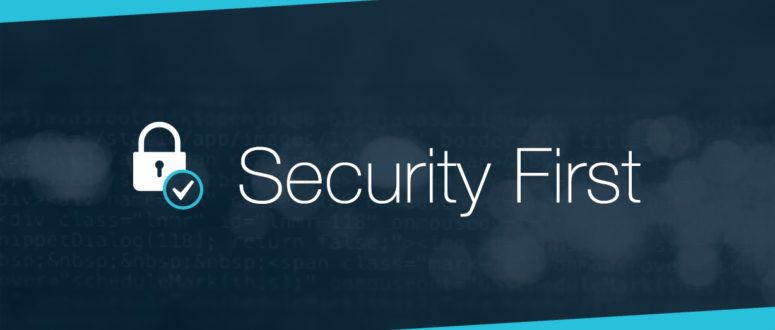 Security first is a mindset. It's thinking about your company's security holistically from the ground up. That means looking beyond technical considerations to see where security fits into everything from your business model, approach to software development and hiring practices, to your pricing, partnerships, marketing, and thoughts on research and innovation.
In other words, security has to come first in everything you do. It can't ever be an after thought. The good news is that putting security first not only keeps your business safe, it helps create competitive advantage for your company. Just think of how innovative companies are differentiating themselves by focusing on security and privacy. Apple and Google stand out as great examples.
We believe that the best software companies will incorporate security thinking into all aspects of their business and applications. And it will be enterprises and consumers making privacy and security a top priority when buying a technology product will drive that shift. To help you better understand security first, we've put together this resource page with lots of great content.
An Overview of Security First
Now that we've given you a quick introduction into security first, let's start taking a closer look at the topic. We've got blog posts, SlideShares, and podcasts to give you a better understanding of what this important topic is all about and why it's so critical for your business.
Over the past couple of years cybersecurity has become a mainstream topic and no longer purely the domain of security geeks. In this post, Yevgeniy Vahlis, Director of Security First at Georgian Partners, explains what security first is and how organizations can start to adopt it as a mindset.
Read more.
Security cuts across all areas of software companies, including development, technology, human resources, culture, marketing, hiring and the C-Suite. It's not about building a bigger security wall, but rather fundamentally changing the way your business operates. In this episode, Ben Wilde interviews Yevgeniy Vahlis and together they do a deep dive on this important topic and what it means for your software company. Listen.
No matter what size your business is, you've got to take security very seriously. Simply making sure that security is on your radar, where it will no doubt compete against countless other priorities, isn't enough. In this guest post, Richard Hyatt outlines why you've got to put security first and offers some clear cut advice about how exactly to do so. Read more.
If you're looking for a quick introduction to security, this SlideShare is just what you need. It's quick, easy to digest, visually engaging, and will give you a basic overview of everything you need to know about security first. View SlideShare.
Keeping Your Business Safe
A keep part of security first is taking the necessary precautions to keep your business safe. In this section, we've rounded up a collection of blog posts that offer practical advice on how to make your business more secure. Whether it's making sure that you've got properly configured TLS protocol support on your server or that you're using two-factor authentication, these posts are full of tips, tricks and practical advice.
We live in a changing world, where rapid changes in technology are putting your business at risk. To be ready for these changes, today's security engineering teams need to understand continuous deployment and DevOps. Not only that, they need to figure out ways to drive up attack costs to make themselves a harder target for attackers. Zane Lackey explains in this guest post. Read more.
According to the latest Verizon Data Breach Investigations Report (DBIR) published in April 2016, 63 percent of confirmed data breaches over the past year involved hacked passwords. In this post, Ben Wilde explains how when it comes to personal digital security, we're often our own worst enemies. He goes on to make the case for two-factor authentication. Read more.
On Friday, October 21, 2016, a major domain name system (DNS) provider called Dyn was subjected to a large-scale distributed denial-of-service (DDoS) attack. In this post, Yevgeniy Vahlis explains what happened and wat your business can do to keep itself safe from other similar attacks in the future. Read more.
Security is a team sport.  As Signpost CTO Seth Purcell put it in his recent podcast, "no one component of a system will provide excellence in security."  It takes an entire organization — not just the IT department — committed to security first to build an effective strategy, create a security culture and position itself as a security leader.  This post focuses on how companies can build a leading security culture throughout the entire employ journey. Read more.
The Blockchain
One of the most interesting and powerful new technologies that's going to impact security first in a big way is the blockchain. While still in its early days, the blockchain has the potential to completely reshape the way that the world thinks about security. To help you get up to speed on the blockchain and its tremendous potential, we've got a collection of podcasts for you to check out.
The blockchain is a game-changing technology that's disrupting other technologies just as the Internet did more than 20 years ago. The problem is that few people actually understand what it's all about and what its applications are for online security. In this episode of the Impact Podcast, Jon Prial talks with William Mougayar about this important new technology and what it means for today's businesses. Listen.
When you think about the blockchain, you probably think about a public ledger that lets you move money securely from one place to another. But the reality is that it's about more than that. It's a way to safely share all kinds of information. In this episode of the Impact Podcast, Ben Wilde talks with Alex Tapscott, the CEO and Founder of Northwest Passage Ventures, about the implications of the blockchain in financial services and beyond. Listen.
In 2007, a cyber attack rocked Estonia, affecting parliament, banks, and media outlets. It was an event that cast a spotlight on cyber security and that also gave rise to a number of new businesses. In this episode of the Impact Podcast, Jon Prial talks with Lee Cocking, the SVP Products at Guardtime, an industrial blockchain platform that's being used to power digital transformation. In a fascinating discussion, they look at how the blockchain is making it possible to take digital security to a whole new level. Listen.
Want Even More Information?
Every other week, the Impact Podcast brings you interviews with tech entrepreneurs about how they are using the latest foundational technology trends such as applied analytics, applied artificial intelligence, conversational business and security first to dominate their market and make a real impact. Listen.
Information security can be a tricky topic to get up to speed on. That's not for lack of information, but rather because there's so much out there, including lots of vendor speak. To help, we've compiled a list of our favorite information security podcasts. We admire the folks behind them because they have a solid track record in the industry and broad experience in a variety of roles. Read more.
Last, but certainly not least, we encourage you to  get all of our latest updates by signing up for our biweekly newsletter.
Growth insights
in your inbox
Join our community of thousands of tech entrepreneurs to get actionable insights from our monthly newsletter.